Secours Expo, the trade FAIR DEDICATED TO
rescue, emergency and prevention PROFESSIONALS
Specialists in rescue, emergency and prevention have the same motivation: to protect and save lives. Even if we could not dream of a more unifying motivation, no other event had made the gathering of those professionals possible before 2015.
Secours Expo's trade fair has been gathering, for 8 years straight, in the same place and at the same time, all the professional categories and all the pre-emergency care professions.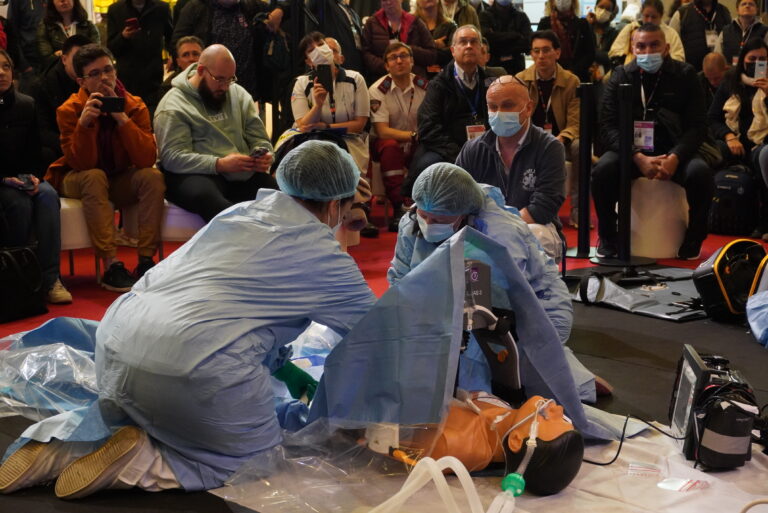 A PROFESSIONAL & EUROPEAN BIENNIAL gathering
Because of its unifying force, Secours Expo is the unmissable biennial event for all professionals. The creation of this event strengthens the very identity of this professional universe. Offering a place of discussions, dialogue and information to all the diverse components of this community is Secours Expo's raison d'être.  
Concerned to bring a broad vision for rescue, emergency care and prevention services beyond the French borders, Secours Expo goes global. This biennial rhythm is also more compliant with the new ways of traveling, closer to the decision-makers needs and tailored to the international dimension. Thanks to a rich programme (to be unveiled soon) in both French and English, Secours Expo draws in a more diverse and international audience.
A space FOR REFLECTION AND debateS
Secours Expo is a space dedicated to reflection and debates, serving a fragmented profession, sometimes even conflictual. Through numerous conferences and round tables, the different relief services will keep the dialogue open – respecting each other's differences – discussing cross-cutting topics. Visitors will assist to high level and high-profile conferences, moderated by journalists or experts in their professional field. Aware of the plurality of Secours Expo's visitors, those panelists will have at heart to remain accessible to all. Visitors will also be able to assist to several animations and demonstrations in the main hall.  Secours Expo is committed to being an essential professional event that will ensure to stay up to date on everything related to relief, pre-emergency care and prevention, to have a better understanding of the hot topics and to deepen everyone's knowledge.
The English-speaking programme, thematics, conferences and names of the speakers will be unveiled in February 2023! 
THE PARIS GAMES OF 2024: A UNIQUE MOMENT FOR PRE-HOSPITAL EMERGENCY
"As Paris is getting ready to offer a new Olympic vision to the world, which will bring international celebrations home, Secours Expo places the highlight on the vital aspect of internationally sharing experiences and knowledge.
These multidisciplinary meetings and exchanges are a unique opportunity to address all aspects of pre-hospital emergency: operational, educational, logistical, both for day-to-day rescue and for exceptional events." 

Dr. Pascal Cassan, Honorary President of Secours Expo and President of the Red Cross' Global First Aid Reference Center