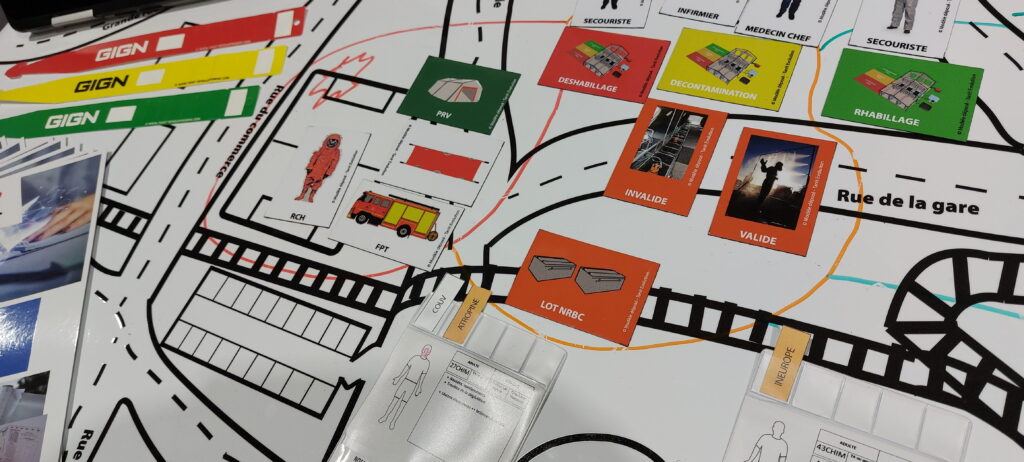 product launch date : 02.12.2022
TRIASIM© CBRN is an educational kit made up of magnets representing the different functions, structures and logistical supports. It is designed for tabletop training of teams specializing in the management of various CBRN situations.
The game allows for a playful approach, whether it is to help understand organizational concepts, train teams, or model plans, the tool adapts to the trainer's objectives and needs. Its design is the result of a reflection on the dimensioning, the customization of the magnets (for more realism) and each framework function appearing on the game takes into account the operational doctrine of the organization for which the game is created.
In order for the kit to become a tool for trainers, a training session is offered when the game is delivered. This allows educational teams to appropriate the tool while discovering the different possible uses.
Simple, robust and adjustable, TRIASIM© CBRN allows for tabletop training of teams specialized in handling CBRN situations through the use of games and actions combining intervention strategy, communication in crisis situations, organization of rescue chains, management of victim/patient flows, interdepartmental coordination and information feedback.
How is this an innovation?
The innovation concerns the possibility of associating the game to the training with different possible cognitive axes by associating technical gestures, reflection, strategy, without forgetting the human factor, communication and decision making; as well as the personalization to each service.
Tanit Evolution is a French company specializing in the design and production of specific, customized products for the emergency and medical services.
TANIT also offers professional training directly related to Tanit products.